In a climate of rising house prices and a depleting availability of land, people are looking for alternative living options, such as tiny homes, as a solution to the problem. While the tiny homes movement is no new concept, it's become an ever-increasing housing fad that shows no sign of slowing down any time soon!
In this blog, we explore the tiny home lifestyle, address some of the misconceptions about living in a tiny home and visit some of the many parallels between tiny homes and prefabs.
The tiny homes lifestyle
Tiny homes combine minimalism with high functionality to embrace a simplified and sustainable lifestyle. The core idea is to have a home that fulfils your needs but removes the excess clutter from your life. It's synonymous with the popular KonMari approach of living, where everything you own fits a purpose and 'sparks joy' in your life.
While the tiny home lifestyle isn't for everyone, there are many attractive benefits to tiny living that draw people in. With the 'less is more' approach to life comes freedom many welcome wholeheartedly. Downsizing and removing the clutter liberates you from constant cleaning and maintenance, leaving more time to enjoy life and live in the present.
Tiny homes offer an affordable alternative to owning an abode without a staggering, life-long mortgage. Pair an affordable home with an economic lifestyle of fewer bills and expenses, and the result is a fairly inexpensive way of living.
This leads to the sustainability appeal. Many tiny homes only require small amounts of power to heat, and a new build prefabricated tiny home manages the energy better thanks to technology such as insulation and double glazing. So regardless of whether a tiny home is self-sufficient or not, living tiny supports a more generally sustainable lifestyle that's kinder to the earth in a multitude of ways.

Interestingly, while the tiny home lifestyle isn't everyone's cup of tea, we're still seeing people throughout New Zealand latching onto the concept of downsizing and embracing a more minimal and sustainable lifestyle.
With house prices and the cost of building increasing steadily people are looking for more feasible housing solutions. Region to region, we're seeing trends of smaller houses being built. The average house size in 2021 for Canterbury is 159m2 (compared to 190m2 in 2020), in Otago, it's 167m2 (compared to 206m2 in 2020) and in Southland, it's 163m2 (compared to 186m2 in 2020). A similar trend is occurring in the North Island too with the overall national average house size sitting at 155m2.
While a tiny home might not cut it for everyone, the concept of a small home is weighing in a similar appeal. As a means of achieving affordable housing that fulfills basic functional needs and embraces a minimal and sustainable lifestyle, a small home is the perfect solution!
At Genius Homes we offer a range of small homes with 1-2 bedroom accommodation options perfect for those looking to downsize and adopt the tiny home lifestyle or for those looking for a new rental, staff accommodation, or an Airbnb holiday getaway as a property investment.
Tiny homes misconceptions
Over the years, the stories of incredible tiny house creations and Instagram-worthy alternative lifestyles have somewhat glamourised the tiny homes movement. And while there's no denying the tiny home's lifestyle comes with many benefits, there are also many misconceptions when it comes to the logistics of living in a tiny house that are important to note when considering this lifestyle.
Tiny home dimensions
A common question people ask of tiny homes is how big, or should we say, how small are they really? And while there is no formal definition, the term tiny generally means 37m2 or less. By this definition, many of the Genius Homes self-contained, 1-bedroom units can be categorised as tiny homes.
When it comes to specific dimensions, most tiny homes are under 3m in width, 13m in length and 5m in height. To be used on the road as a vehicle, NZTA trailer specifications say a tiny house on wheels can be up to 2.55m wide and 12.5m long provided it also meets the 3500kg weight limits, which can be difficult to achieve.
Are tiny homes a building or a vehicle?
Another common confusion is around the exact classification of a tiny house and unfortunately, the answer still isn't straightforward. As tiny homes are generally bespoke, every situation is different and best categorised case-by-case.
The Ministry of Business, Innovation, and Employment in New Zealand have however recently released a Tiny Homes Guide that helps to address this confusion (see flowchart below). Under this guide, a tiny house could be considered as a building or a vehicle, or both a building and a vehicle.
A building, as defined by the Building Act is "a temporary or permanent movable or immovable structure and can include a vehicle or motor vehicle that is immovable and is occupied by people on a permanent or long term basis".
Many tiny homes are built on wheels and are often parallel to a large motorhome, allowing the home to be movable and reducing any time and money spent on building consent processes.
Tiny homes on wheels can by definition still be classified as a building if it's intended that the dwelling will be occupied on a permanent or long-term basis. Additionally, it's important to note that while choosing a tiny house on wheels may seem cheaper by cutting consent processes, it's likely to cost the same regardless as much lighter and often more expensive materials will be required to meet trailer requirements. Following consent processes and building a fixed dwelling may be in your best interests long-term if you intend to live in your tiny home. As all Genius Homes 'tiny homes' are permanent structures there's little confusion as to whether our designs are buildings or vehicles, they are definitely the former! The only time a Genius Homes prefabricated house is moved is when it's delivered to your site ready to be fixed to services and the foundation. No other option exists for a Genius Homes house.
Cost of building a tiny home
While building a tiny home is a much more economical option than a larger home, the affordability aspect of it has been slightly romanticised, particularly from the many tiny home success stories circulating of tiny houses being built for record low costs. This sets unrealistic expectations for those thinking a tiny house is the solution to an unaffordable housing market.
The truth of the matter is, unless you've got the time and skills to build the home yourself, already own land or have access to rent-free land, and you're snatching up second-hand material deals left, right and centre, it's more realistic to say a standard, fully-functional 1-2 bedroom tiny home is going to start from between $130,000 - $150,0000. That's still very inexpensive considering today's house prices and this is still a fully-functioning home, not a stripped-back nomadic camper.
If you're after a more luxurious tiny home that's something truly special, future proof, self-sufficient, and boasting innovative, high-quality materials and design features a realistic budget would be closer to $250,000+.

However, when you compare this to the current median price of $795,000 for buying a house in New Zealand, or $378,307 for building a new home ($2,428 average price per m²), there's definitely cost-saving advantages to a smaller floorplan. Like every new build, the cost of labour and materials remain the biggest expense, and tiny homes are no exception. Fortunately due to the size, reduced materials and less time needed, building a tiny or small home is still a more affordable option than a larger, conventional new build overall.
Financing a tiny home
Another common concern faced by those looking to adopt the tiny home lifestyle is financing the home. While it's true building or buying a tiny home is likely to cost you a lot less than purchasing an existing home or building new, it's still a large upfront cost and one that you're not likely to access funding for.
As tiny homes are generally not considered a house by banks, it's unlikely to qualify for a home loan. While it may be possible to access a personal loan from some banks to finance your tiny home or use the equity in an existing home as leverage, it'll generally be a more difficult process than buying a standard house. This is particularly true for first home buyers too as it's not possible to access KiwiSaver funds or government grants when buying a tiny home.
Options such as prefab homes pose a good alternative for those exploring a simpler, more minimalistic lifestyle by living small. There are many small prefab homes available for those looking to downsize, buy a more affordable dwelling, purchase a rental or open an Airbnb holiday getaway. And fortunately, most banks are happy to provide loans for prefabricated homes, making this a more viable solution to financing a tiny or small home. For first home buyers, this could mean accessing KiwiSaver funds and new build grants too.
We recommend talking to your bank or mortgage broker to discuss your unique situation. Or get in touch with your chosen tiny home or prefab company directly to help guide you through your finance options.
Prefab homes vs tiny homes
Just as the sustainable lifestyle and affordability bonuses of a tiny home draws people in, prefab homes are also becoming increasingly popular as a solution to an easier, more affordable, and more sustainable new home investment. A prefab home refers to a house that is built off-site, generally in a factory, and transported as a fully completed house to its final destination. While many companies around New Zealand build and sell prefabricated tiny homes or bespoke, custom-designed tiny homes, if you're looking to downsize but aren't quite ready to go entirely tiny, or not ready to jump through the confusing hurdles surrounding living in a tiny home, then a small prefab might be the perfect solution for you!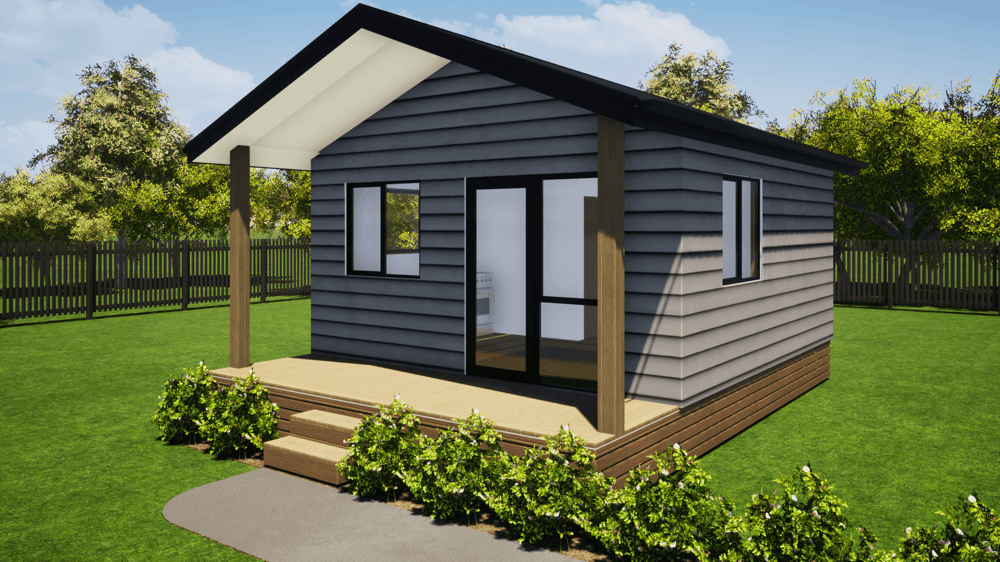 At Genius homes we offer an extensive range of modern, practical prefab designs that embrace living with less to achieve a more fulfilling life. For our smallest unit, at just 25m2 check out the Horizon (pictured above) or take a look at the Kiwi (pictured below) for a more striking, modern-styled 30m2 1-bedroom home solution.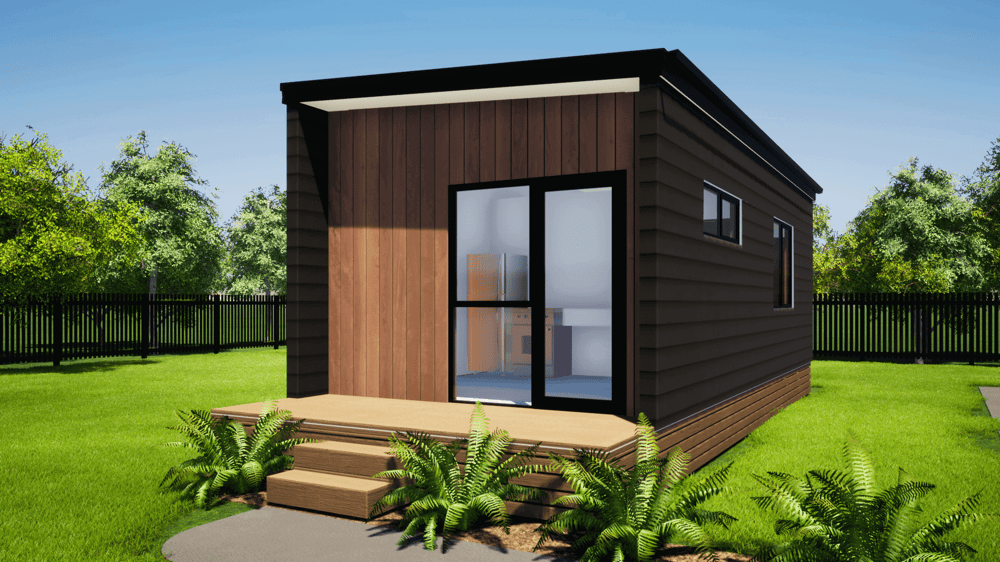 If you're looking to downsize, add a second dwelling to your property or get your foot on the property ladder then a compact home might just be the perfect solution. Discover more of our 1-2 bedroom prefab homes or talk with a member of our team and unlock the benefits of a sustainable and minimalist lifestyle with a new prefab home!